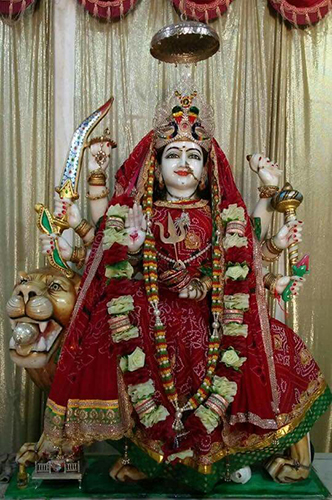 The temple is located in Badi Lambore (Lambore Dham) village at a distance of 8 kilometers from Sadulpur (Rajgarh) on south Sadulpur-Malsisar-Jhunjhunu road. The temple is a centre of devotion among the followers of Mansa Mata scattered throughout the land. The divine form of Mata inspires them to perform holy deals. Most of her followers are involved in different kind of livelihood and constantly moving upwards with Her blessings.
In the earlier days, the idol of Mata was placed in 'Devi ki Vani'. Mata left that place due to the evils and came near the berry tree. She came in the dreams of Seth Surajmalji, the head of Hamirwasiya family and inspired him to build a temple at the place. He came to this place and gave responsibility of constructing the temple to his elder son Shri Onkarmalji and returned to Calcutta.
Shri Jagannath Prasad ji and his younger brother Shri Buddhi Lal ji decided to give this temple a splendid look. He sought the help of other devotees in this holy task and finally Late Shri Atmaram ji laid the foundation of the temple on January 28, 1974 under the guidance of Pundit Girdhari Lal ji Shastri.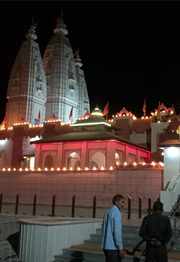 The construction of the temple and an attached verandah completed within an year and the idol of Mataji was placed on April 19, 1975. Pundit Kalicharan ji Shastri graced the occasion.
The managing committee expanded the temple and gave it the present look in the year 2046 according to the Hindu calendar. Five years later Shri Pavan Kumar Hamirwasia, Shri Anil Kumar Hamirwasia and Shri Premsen Singh completely renovated the internal flooring of the temple.
Today the temple is expanded in a vast complex with 41 rooms, yagnashala, Shri Lamboria Mahadevji temple, Shri Lamboria Balaji temple and a Singhdwar. The temple is equipped with all the necessary items that include generators, pots, quilts, rugs and many others.
Two large verandahs in the temple can accommodate more than thousand devotees. There is also enough space to park cars and other vehicles.
The managing committee of the temple is registered as Shri Mansa Mata Mandir Sewa Trust. A branch of the trust is functioning since 1992 in Calcutta under the guidance of Shri Brijlal Balasaria, Shri Bimal Hamirwasia and many other members.
The temple is functioning swiftly under the guidance of Shri Laxminarainji Tambakheriwala. The temple organizes various religious ceremonies throughout the year. The devotees of Mata are constantly spreading Her divinity among the others.