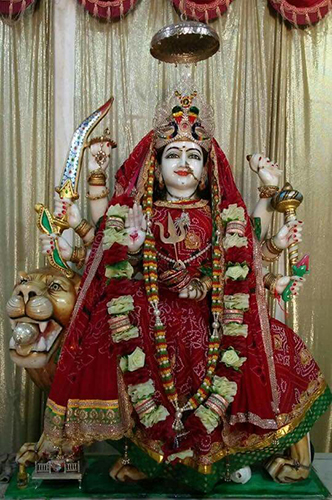 Sri Mansa Mata Mandir, which dates back to 400-500 years, is situated at Lambore Badi village in Rajgarh Tehsil of Churu District, Rajasthan and is famous as Lambore Dham. The reigning deity is Ashta Bhuja Durga christened at Mansa Mata as all your wishes are fulfilled here merely by worshipping. The other Temples include Sri Lamboria Balaji, Bhagwan Ashutosh and Sri Bhairav Ji. It has over 100 rooms with basic facilities and a community kitchen. The main festivals are Ashwin & Chaitra Navratri.
The Temple complex is managed by Sri Manasa Mata Mandir Seva Trust which was founded under the able guidance of Late Sri Buddlhilal Hamirwasia in 1986 and is presently headed by his youngest son Sri Adarsh Hamirwasia. The present Board consists of 14 Trustees. The day to day activities are carried out under the stewardship of Sri Laxminarayan Tanbakheriwala, Vice President and the all India co-ordination is managed by Sri Pawan Hamirwasia, Secretary and Sri Bimal Hamirbasia Jt. Secretary.
The Trust has its Registered and Head Office at Lambore Badi and a Branch Office at Kolkata. The Trust offers two types of membership:
LIFE MEMBERSHIP :
Rs. 11001/- One Time
ASSOCIATE MEMBERSHIP :
Rs. 201/- Annually
Payments can be made by Cheque/Demand Draft/RTGS/NEFT or any other Digital mode of payment in Trust's Bank Accounts which can be provided on request.
For any type of information please get in touch with the following persons.


Sri Adarsh Hamirwasia
Hamirwasia Agro Private Limited
52A Wazir Bagh, Chhawni Bazar
P.O. & Dist: Bahraich 271801 (U.P.)
Mobile : 9005936844
e-mail:info@mansamata.com



Sri Laxminarayan Tambakheriwala
Laxminarayan Chandraprakash
New Anaj Mandi
P.O. Sadulpur 331023,
Dist: Churu, Rajasthan
Mobile : 8875260930 / 9413121116

Kolkata Branch

Sri Pawan Hamirwasia
22 Radha Kanta Jew Street
Near Deshbandhu Park, Shyambazar
Kolkata 700004
Mobile : 9432581813 / 03340726683