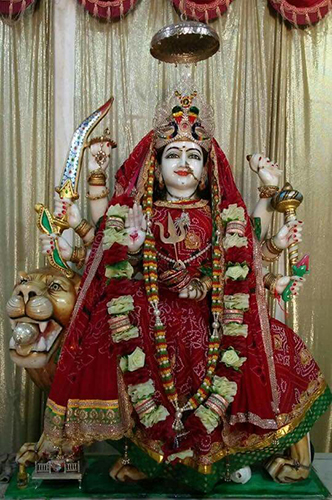 The Temple complex includes the Temples of Bhagwan Ashutosh Sri Lamboria Balaji and Pawanputra Sri Lamboria Balaji. It has, amongst other community arrangements, 41(forty one) rooms with all basic facilities/amenities. Community kitchen serves food. All facilities are free of charge.
The complex is managed by and services carried out are under the auspices of Sri Mansa Mata Mandir Seva Trust founded in 1986 by Late Sri Buddhilal Hamirwasia. At present the Trust is headed by Sri Nand Kishore Hamirvasia. The day to day works of the complex is taken care of by Sri Laxminarayan Mittal . The Trust has its Registered and Head office at Lambore Dham, Lambore Bari, Distt: Churu and a branch office at Calcutta. Membership offered by the Trust is of two types.
1) Lifetime Membership with an one time payment of Rs. 11001/-
2) Associate Membership with an annual subscription of Rs. 201/-
Payments can be routed either to the Regd. & Head Office or Calcutta branch by DD/Cheque made payable at Sadulpur,
Rajgarh or Calcutta.
For further details and information contact:
Sri Adarsh Hamirwasia
C/O Sri Manasa Mata Mandir Seva Trust
Hamirwasia Agro Private Ltd
52A Wazir Bagh, Chhawni Bazar
P.O & dist.: Bahraich
Uttar Pradesh 271801
Mobile : 9415036844 / 9005936844
e-mail:info@mansamata.com

Sri Laxminarayan Tambakheriwala
Laxminarayan Chanderprakash
New Anaj Mnadi
PO: Sadulpur - 331023
Distt: Churu
Rajasthan
Phone:
STD Code: (01559)
Off: 22016
Resi: 22561