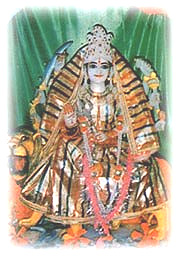 In and amongst innumerable Divine manifestations, there was one Temple as old as 400-450 years which stood upon a sand top called a TIBA at Lambore Dham in Churu District of Rajasthan, India.
Lambore Dham (Lambore Bari) is accessible from Delhi/Jaipur by Road or by Rail, the distance in each case being approx. 240 Kms. Nearest Railway Station is SADULPUR (Rajgarh),on N.R.(Meter Gauge). Lambore Bari is situated 8 Kms south of Rajgarh on Rajgarh-Malsisar-Jhunjhunu road, a 15 minute journey by car, jeep and bus available almost round the clock .
: Passengers are requested to check arrival/departure times as these are subject to change without notice.